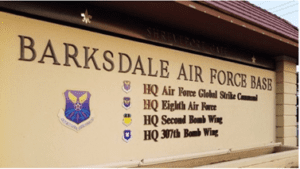 Genesis 360 recently won a competitive bid for a 4.1-million-dollar federal contract from the Department of Defense (Barksdale Air Force Base).  The work consists of grounds maintenance, pest control, and other incidental work at Barksdale Air Force Base, Bossier City La.
Genesis 360 President, Craig Stevens stated "I'm extremely grateful to win this contract as Barksdale Air Force Base is where I spent many years of my Air Force career and also where I retired.  It will always be a place I call home."
Stevens is an Opelousas, Louisiana native and the owner of Genesis 360. After 25 years of service in the US Air Force serving in the 93rd Bomb Squadron, Stevens retired as a Captain and started Genesis 360, LLC in 2011. In 2017, Genesis 360 received it's 8(a) certification and Veteran Owned certification from the Small Business Administration. Craig has a Bachelor of Science degree in Information Technology and is also a graduate of Leadership Ascension and New Orleans Emerging Leaders.  Genesis 360 is a proud supporter of the community and Stevens currently serves or has served on the board for the Baton Rouge Food Bank, Boys & Girls Club, Dream Teachers, BREC, BR Home Builders Association, Ascension Chamber, Better Business Bureau, and LABI.  Genesis 360 has been selected as 2022 Small Business of the Year by Baton Rouge Business Report, 2022 SBA Firm of the Year for Louisiana, and as one of INC 5000 Fastest Growing Companies in America.  Stevens has been selected as 2022 SBA Business Person of the Year.  He is also a Rotarian, C100 Member, and member of Kappa Alpha Psi Fraternity.
ABOUT GENESIS 360: The mission of Genesis 360 is to put its track record of excellence to work for its federal and commercial clients, allowing them to focus on their core business. As a one-stop shop for construction, grounds maintenance, building maintenance, and IT Services. Genesis 360 serves organizations across the United States. Currently Genesis 360 has offices in downtown Baton Rouge, Houston, and Maryland.
Genesis 360 operates focused on its core values: Integrity first, Service before self, and Excellence in all it does.